This recipe is proof that espresso doesn't always have to be served hot in a mug! Add some in this fat bombs recipe for a healthy serving of energizing caffeine, fats, and ketones! These Perfect Keto Mocha Fat Bombs are perfect for a midday snack when you hit that afternoon slump. Pop one or two of these fat bombs out from the freezer whenever a craving hits, and you'll be energized for hours!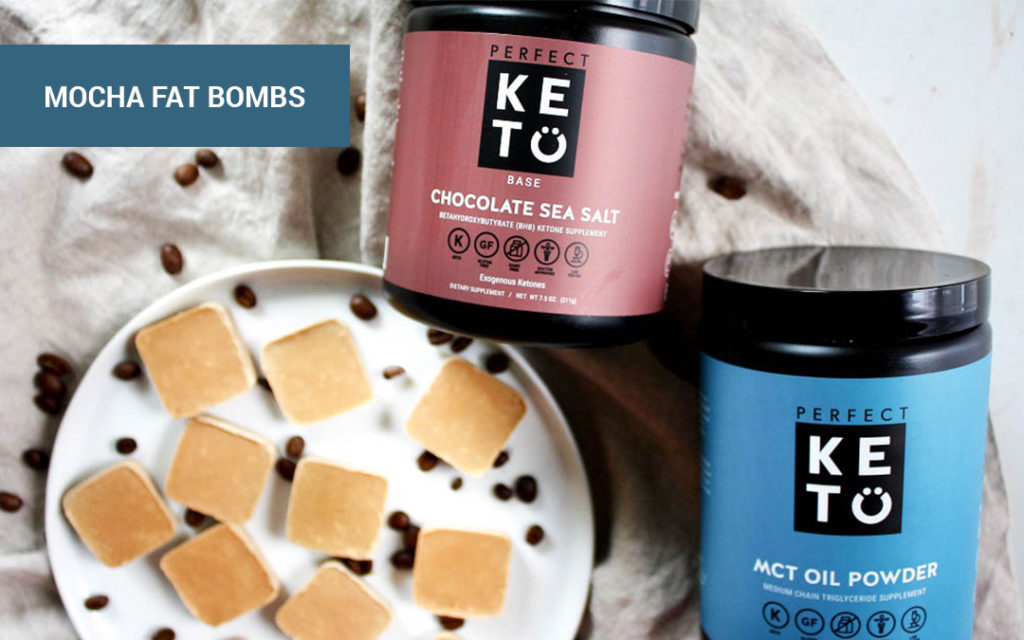 Talk about energy bombs! This recipe will give you all the healthy fats from the coconut oil and the Perfect Keto MCT Oil Powder, and thus, raise your energy levels.

MCTs

For the refresher course: MCTs (or Medium-Chain Triglycerides) are a type of saturated fat that is essential for normal growth, regeneration, and survival. MCTs have medium carbon chains, which are easier and quicker to break down than longer carbon chains.

One of the best sources of MCT is actually coconut oil, as it contains more than 60% of medium-chain fats.

Check out some of the awesome benefits MCTs have to offer below:
Easy on the digestive system
Quickly burned for fuel rather than being stored as fat
Make you feel full
Proven to raise ketone levels
Contain antioxidants to reduce inflammation
Promote heart health
Exogenous Ketones

And for the delicious bonus, queue the Perfect Keto Chocolate Sea Salt ketones. Not only will this enhance the fat bomb flavor, the ketones will provide the added benefits of getting into ketosis more quickly as well as giving you extra brain fuel.

Are you ready to be energized? Let us know how your mocha fat bombs turn out in the comments below.

Perfect Keto Mocha Fat Bombs

Prep Time10 mins

Total Time10 mins

Yields 24 Fat Bombs ADJUST SERVINGS

Ingredients

5 tbsp unsalted Kerrygold butter, softened
3 oz. cream cheese softened
2 shots espresso
4 tbsp coconut oil
2 tbsp heavy whipping cream
2 tbsp monk fruit sweetener
1 scoop Perfect Keto MCT Oil Powder
1/2 scoop Perfect Keto Chocolate Sea Salt Ketone Supplement

Instructions

In a double boiler, melt together butter, cream cheese, espresso, coconut oil, and heavy whipping cream.
Remove bowl used in the double boiler from heat and add remaining ingredients. Using a hand mixer, mix all ingredients until well-combined.
Scoop mixture into a silicone mold.
Freeze for 4 hours.
Once frozen, remove fat bombs from silicone mold and enjoy!