8:14pm
56 mins - Nigeria 1 Argentina 1
Ighalo goes down clutching his head and claims he's been elbowed. He hasn't. Free-kick to Nigeria though and Ndidi is then penalized for climbing all over Mascherano.

8:12pm

53 mins - Nigeria 1 Argentina 1


Croatia has taken the lead in the other game! Argentina needs to win to go through - Nigeria is in second in the table for now!


Banega slides in the box! This could be a penalty... but he connects with the ball - just- and gives away a corner.
8:09pm

GOOOOOOOOOOOOOAAAAAAAAAALLLLLLL!


MOSES SCORES!

Moses waits for the goalkeeper to dive and calmly places it the other side of him. Great penalty.

8:09pm

Penalty confirmed!


That is really harsh on Mascherano. He has his arms around the Nigerian but doesn't really force him anywhere and he falls to the ground. VAR says it's a penalty though. Huge moment coming up for Moses.

8:07pm

49 mins - Nigeria 0 Argentina 1

Nigeria wins a corner after some miscommunication from Argentina's center-backs. Etebo stands over it and IT'S A PENALTY! MASCHERANO IS BOOKED!
8:06pm

48 mins - Nigeria 0 Argentina 1


Banega slides in, wins the ball and keeps it in play somehow, then Perez overlaps and tries to make something happen going forward. Nigeria absorbs the pressure and wins a free-kick in Argentina's half.
8:04pm
KICK OFF 2
Iceland is drawing but has gone close to scoring a couple of times. It's all very tense but we're back! Argentina gets the second half started.
8:01pm
If you thought English media is a bit nuts about England
Argentinian coverage of tonight's game is analysis the difference in body language between Messi and Maradona.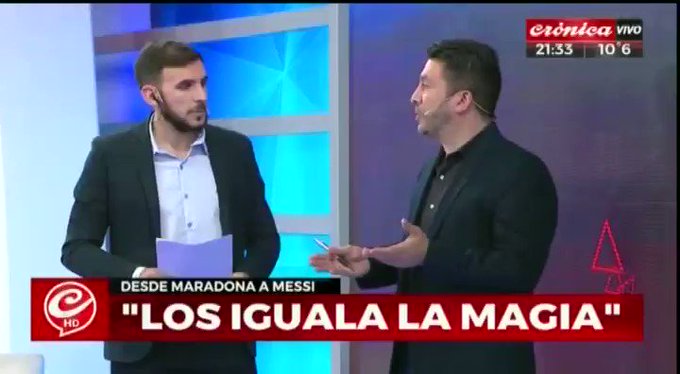 It never ends!

7:59pm

You are the VAR


Here's a fun little game for you and it's harder than you'd think:


7:55pm

Rio Ferdinand on defending against Messi


"It is an absolute nightmare. You just think, how am I going to get near him?"
7:53pm
I love these photographs
CREDIT: GETTY IMAGES
7:51pm
Team shapes
7:48pm
HALFTIME
Argentina are halfway there! Nigeria definitely has a lot left to offer but a Leo Messi inspired Argentina have finally turned up. The second half will be very interesting.
7:45pm
45 mins - Nigeria 0 Argentina 1
Controversial! The ball is into the box and Iheanacho wants to attack it with his head. Rojo jumps with a high foot and clears the ball away... and Iheanacho heads his shin. Isn't that a high boot?
CREDIT: GETTY IMAGES
If Iheanacho had gone to head that high rather than waiting for it he might have had a penalty.

7:43pm

44 mins - Nigeria 0 Argentina 1


Jermaine Jenas is impressed with Argentina's pressing off the ball:


"You'd be surprised how infectious it is. You see your teammates doing it and you think you know what I'm going to do that and it has a wave effect."

7:41pm

42 mins - Nigeria 0 Argentina 1

It's fairly one-sided but Nigeria has just started to get back into the game the last couple of minutes. They have a corner. Or they thought they did... the referee signals it's a throw-in.

Musa takes it and WOOF that is long! The ball arcs into the area are headed away and Etebo tries a shot from distance. That's out for a throw-in.

7:39pm

40 mins - Nigeria 0 Argentina 1

Messi is really on it tonight. Everything he touches is working the way he wants it to, and his movement off the ball is helping Argentina link short passes in the final third. He very nearly forces an opportunity to score but some great focused tracking by his marker ends the chances of that.

7:37pm

38 mins - Nigeria 0 Argentina 1

The camera cuts to two girls/women sitting in the crowd and one of them laughs, smiles for the camera and then gives two V signs. Guy Mowbray: "Bit rude".

7:35pm

36 mins - Nigeria 0 Argentina 1


The replays show the goalkeeper gets a hand to that Messi free-kick! It's a brilliant save.
7:34pm

34 mins - Nigeria 0 Argentina 1


MESSI HITS THE POST! It suits a right-footed curler but Messi takes it and bends towards the far post. The goalkeeper is beaten but the frame of the goal isn't!
7:33pm
33 mins - Nigeria 0 Argentina 1
Banega has made a massive difference tonight. He's holding the ball well in midfield and passing it forwards when it's the right time, and now Di Maria has been tripped while running through on goal! That's a yellow card but it hardly seems fair - Di Maria was away and through on goal. Balogun gets booked for that one.
It's a difficult decision... but he has basically denied Di Maria a chance to shoot.
CREDIT: GETTY IMAGES
Messi stands over the free-kick.
7:30pm
31 mins - Nigeria 0 Argentina 1
CREDIT: AP


This is the touch on the thigh that Messi makes while running at full speed for the goal. His second touch is before the ball hits the ground and takes it away from the defender. It's a brilliant goal, basically is what I'm saying.

Nigeria seems like they're reserving a bit of energy at the moment, soaking up the pressure so they can have a go later when Argentina's stamina is low.

7:28pm

29 mins - Nigeria 0 Argentina 1


What a pass. Messi picks the ball up on the right, Nigeria back off him and he slips a superb through-pass into Higuain! The goalkeeper rushes off his line to close it down, Higuain should score... but doesn't get enough on it! They collide and the chance is gone.

7:26pm

27 mins - Nigeria 0 Argentina 1


Argentina's shape looks something like a 2-6-2 at the moment.

Higuain drops into midfield to link play and helps out at the back.

7:24pm

25 mins - Nigeria 0 Argentina 1


Argentina still working hard off the ball high up the pitch. Higuain closes down an attempted clearance and wins a throw, Messi is chasing players too.

Mascherano turns up in the final third to try and steal the ball then retreats back to his holding role.
7:22pm
23 mins - Nigeria 0 Argentina 1
Banega has the ball in the final third, Higuain makes a run off the ball but Banega miskicks then slide in to try and win it back. Throw-in to Nigeria. Argentina wins possession back and the goalkeeper hits it long rather than take risks with short passing.
CREDIT: GETTY IMAGES
7:20pm
21 mins - Nigeria 0 Argentina 1
It's a real midfield battle.
7:19pm
19 mins - Nigeria 0 Argentina 1
Moses gets on the ball wide right and wins a corner. Iheanacho will take, even though he's a striker. It's headed away by Otamendi and Di Maria is on the break! Etebo wins the ball off him and a strong arm sends Di Maria to the floor. Free-kick Argentina.

7:17pm

17 mins - Nigeria 0 Argentina 1


Nigeria had started so well but one long ball over the top and Messi's incredible close control has made the difference.

That's the 100th goal of the World Cup as well apparently. Di Maria has been hacked down on the left wing and Argentina has the chance to get the ball in the box.

7:14pm

GOOOOOOOOOOOOAAAAAAAAAAAAAAAALLLLLL!

IT'S MESSI!

What a goal! Leo Messi breaks away at speed in behind the defense, two brilliant touches and he's powered the ball on his right foot - Michael Owen style - into the top corner. Absolutely superb.

7:13pm

14 mins - Nigeria 0 Argentina 0


Big mistake by Mascherano! He's gifted the ball to Iheanacho in Argentina's half! The striker moves towards goal but takes too long to get his shot away and Mascherano slides into recover. And then Mascherano gives the ball away to Musa!

7:11pm

12 mins - Nigeria 0 Argentina 0


Argentina is working really hard off the ball to try and win it back but Nigeria's passing has been quick and accurate so far.

7:10pm

10 mins - Nigeria 0 Argentina 0


Messi has a run at the Nigeria back line, twists and turns and he's behind them! Great play but his attempted cross back inside the box is blocked. Nigeria defending well here.

7:09pm

8 mins - Nigeria 0 Argentina 0


Messi fires a pass inside, Banega controls and spots the overlapping run of Tagliafico. The full-back gets to the box and is off balance... but tries a shot and it's wide.

Nigeria comes forward and attacks with Musa's pace out wide.

7:06pm

6 mins - Nigeria 0 Argentina 0

Di Maria does well to read the play and win a tackle and then sprints to keep Banega's searching pass alive. He's just offside as he slides in to prevent a goal kick.

Aggressive tackles are coming in from Argentina as they try to possess Nigeria. They need to be careful! Etebo picks up a loose ball and strides towards a goal! And now Argentina is on the counter. Messi is wiped out by Mikel.

7:03pm

4 mins - Nigeria 0 Argentina 0


Messi has taken up a position on the right wing and Argentina has found him early on. Nigeria sitting deep behind the ball... a pass goes all the way through to Uzoho.

7:02pm

2 mins - Nigeria 0 Argentina 0


It's quite a slow start from Argentina as they try to figure out how they're supposed to attack as Nigeria sit just off them but it looks like Sampaoli's side are going to have more of the possession today.

7:00pm

KICK OFF

Here we go! Nigeria start the game!

6:57pm

Here come the players!
It's time for the national anthems. If we can learn anything from earlier, Peru was much louder than Australia and went on to easily beat them...





Decent effort from Nigeria with interesting use of woodblock between bits with words.

Argentina has definitely won this battle. There are millions of them in the crowd (I mean, not literally obviously) and it's a loud singalong. Messi has a little smile on his face too. That's a good thing, right?

6:42pm

Didier Drogba on Mikel


"He started with a number 10, where he likes to play, he enjoys that supporting the strikers but I think the manager put him back into a holding midfielder and this change has really helped Nigeria in the transition.

He's a leader, wants the team to do well. He has high expectations and it's good to see him leading."
6:35pm
More from Zabaleta
He looks so stressed and unhappy, don't get me wrong, the best thing to go into a football game is to enjoy. You need to enjoy and you see Messi's not enjoying.
6:34pm
Pablo Zabeleta on Argentina's chances
CREDIT: GETTY IMAGES
"As long as Messi is playing there is always hope. I'm expecting a big reaction. Definitely, the manager is picking the team."
6:32pm
Messi's missed penalty
VAR could be a huge talking point after this game again, especially following Messi's miss in the game against Iceland. Things wouldn't be so difficult today if he hadn't hit such a poor shot from the spot but Messi's been guilty of a few misses in his career. If there is one fault in his game, it is that.
CREDIT: FIFA
Messi has been good pals with Aguero since they were young.
6:04pm
Players to watch
Nigeria's Oghenekaro Etebo has been the standout for me in their World Cup games so far - even if Musa scored the goals, Moses does the attacking and Ndidi wins the ball back all of the time. He's composed on the ball, tidy with his passing and has great vision when putting under pressure and it feels like the 3-5-2 Nigeria are playing today suits all three of their central midfield players.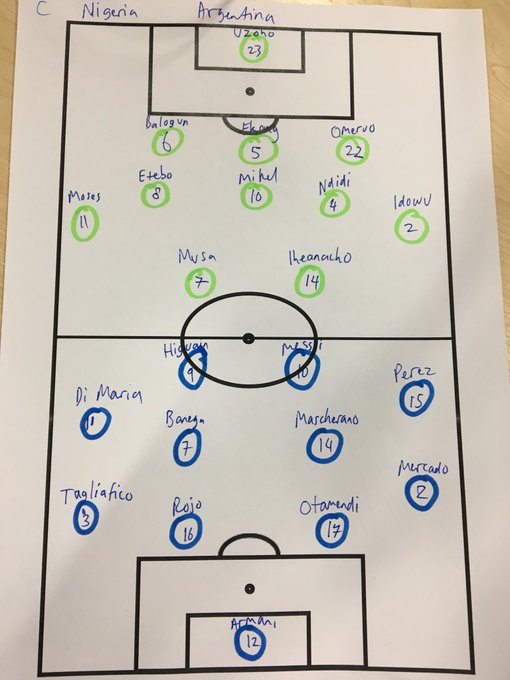 Another game, another team sheet. Really like Nigeria in this 352 - seems to work well. Argentina is awful. Higuain vs 3 CBs will be fun

The problem for Argentina will be finding space to operate in. With three center-backs, Higuain is heavily outnumbered as a central striker and the hope really should be that Higuain pushes the center-backs away from the midfield so that Messi can have some room on the ball.
To do that you'd expect Aguero to come on and turn this into a 4-1-2-1-2 at some point - probably when Nigeria has the lead :-[] - but nothing Sampaoli has tried has worked so far so Messi fans: don't get your hopes up too much.
But it is Messi.
5:55pm
World Cup records
5:48pm
Starting lineups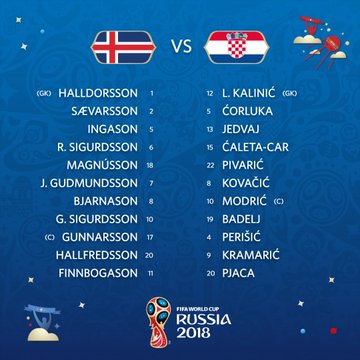 Who's ready for the final matches of Group D?
5:44pm
Words from Jon Obi Mikel
To advance from this so-called 'group of death' would be massive for us as a team and for the younger players – for their development and for their next World Cup. They can get a good taste of how a World Cup works. They gain a lot of experience and can build on that in the next four years.

5:41pm

Nwankwo Kanu with some words of support

I'll be honest, it's not a great video but it's nice to see his face. Memories of the early 2000s are fading fast. Life... flying by too quickly... Messi being turfed out of a World Cup early? What is the world?

5:37pm

Some Argentina tactics for you

The only real difference we've seen from my preview and the last two games is that Argentina has sometimes played Messi on the right of a 4-3-3. Other than that it's been horrible to watch.
5:33pm
Hello!
And welcome to our live blog for what could be Lionel Messi's last involvement in the World Cup 2018! Surely not! It can't happen! Say it ain't so!
Well, friends, it could really be just that today. Argentina have to beat Nigeria and hope that that Iceland don't find a way to beat Croatia if they are to progress to the next stage of the competition but Nigeria need only draw to do the same thing! The ball is Nigeria's court or half, and the other problem is that Argentina has been dreadful in each of their two games so far.
No invention, no pace, no organization, too many players trying to do the same things in the same places - it's a total mess and Jorge Sampaoli has had a nightmare. It's not clear what he wants to do or what he really could do with the players available. To say Messi looks stressed is an understatement.
CREDIT: AFP
Nigeria is a weird one. They lacked drive, purpose, and energy in their first game but a change of shape to a 3-5-2 opened them up in that win over Iceland. Ahmed Musa was fantastic and should keep his place today and if Nigeria brings the same tempo, skill and balance to the side that put two goals past Iceland, I can absolutely see them winning here.
Argentina has a big reputation but really lack balance. The strikers don't link well, Messi doesn't get the passes he needs, opposition teams shut him out of the game and nobody else picks up the slack. What is going to happen today?
Team news will be with us soon and then we can start figuring all of that out. Nigeria probably deserves to go through but I wouldn't have thought a football fan alive wants a World Cup without any moments of Messi magic. Perhaps this is the day we get some!
Source: